Top 10 Quotes From Rand Paul's Amazing Filibuster on Civil Liberties
www.theblaze.com
A passionate Sen. Rand Paul (R-Ky.) conducted an old-fashioned filibuster on the Senate floor Wednesday to halt the nomination of President Barack Obama's CIA director nominee John Brennan.
http://www.theblaze.com/stories/2013/03/06/top-10-quotes-from-rand-pauls-amazing-8-plus-hour-filibuster-on-civil-liberties-drone-strikes/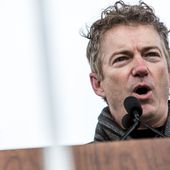 White House admits it can't kill Americans with drones in US - RT USA
Two leading figures within the Obama administration now insist that the president of the United States does not have the authority to launch drone strikes on US soil. Sen. Rand Paul (R-Kentucky) ...
http://rt.com/usa/white-house-admits-it-cant-drone-americans-976/