"...their conclusions are remarkably similar: that a series of repressive and/or opportunistic Israeli politicians have endangered — perhaps murdered — any chance of a lasting peace. That's right, folks, it's the spooks taking the long view. You know the Holy Land is an unholy mess when the professional paranoiacs with a license to kill come off like peaceniks."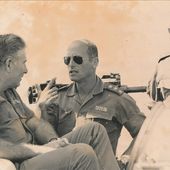 Edelstein on The Gatekeepers: Shedding Light on Israel's Secret Service
Dror Moreh's documentary The Gatekeepers is shockingly lucid. It begins with the claim that the leaders of Israel's secretive and often ruthless intelligence agency, Shin Bet, have never spoken ...
http://www.vulture.com/2013/02/movie-review-the-gatekeepers.html