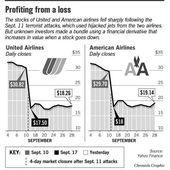 Suspicious profits sit uncollected / Airline investors seem to be lying low
www.sfgate.com
Investors have yet to collect more than $2.5 million in profits they made trading options in the stock of United Airlines before the Sept. 11 terrorist attacks, according to a source familiar with the trades and market data. Securities regulators and law-enforcement agents throughout the United Sta...
http://www.sfgate.com/news/article/Suspicious-profits-sit-uncollected-Airline-2874054.php#ixzz2LETdzGKq

Amazon.com: Customer Reviews: The New Pearl Harbor: Disturbing Questions About the Bush Administration and 9/11
Dr Griffin freely admits that he is advocating the writings of others, from Jared Israel and Mike Ruppert to Thierry Meyssan and Paul Thompson, author of the enormous 9/11 timeline. Unlike them ...
http://www.amazon.com/The-New-Pearl-Harbor-Administration/product-reviews/1566565529/ref=dp_top_cm_cr_acr_txt?ie=UTF8&showViewpoints=1