Uploaded by amitgeva100 on 2012-09-03.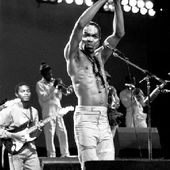 It's almost impossible to overstate the impact and importance of Fela Anikulapo (Ransome) Kuti (or just Fela as he's more commonly known) to the global musical village: producer, arranger, musician
"Upon returning to Nigeria, Fela founded a communal compound-cum-recording studio and rehearsal space he called the Kalakuta Republic, and a nightclub, the Shrine. It was during this time that he dropped his given middle name of "Ransome" which he said was a slave name, and took the name "Anikulapo" (meaning "he who carries death in his pouch") . Playing constantly and recording at a ferocious pace, Fela and band (who were now called Africa 70) became huge stars in West Africa. His biggest fan base, however, was Nigeria's poor. Because his music addressed issues important to the Nigerian underclass (specifically a military government that profited from political exploitation and disenfranchisement), Fela was more than a simply a pop star; like Bob Marley in Jamaica, he was the voice of Nigeria's have-nots, a cultural rebel. This was something Nigeria's military junta tried to nip in the bud, and from almost the moment he came back to Nigeria up until his death, Fela was hounded, jailed, harassed, and nearly killed by a government determined to silence him. In one of the most egregious acts of violence committed against him, 1,000 Nigerian soldiers attacked his Kalakuta compound in 1977 (the second government-sanctioned attack). Fela suffered a fractured skull as well as other broken bones; his 82-year old mother was thrown from an upstairs window, inflicting injuries that would later prove fatal. The soldiers set fire to the compound and prevented fire fighters from reaching the area. Fela's recording studio, all his master tapes and musical instruments were destroyed."
"Fela's mother, Funmilayo Ransome-Kuti, was Nigeria's first feminist activist, and the first woman to drive a car in the country. She broke her hip in the fall and later died from her injuries. The original Kalakuta Republic was subsequently burned to the ground, but Fela's response was to move into a new house and place a coffin on its roof with a banner that read: "This is where justice was murdered." Obasanjo was in the process of handing over to a civilian government and Fela was determined to give him a parting gift. He took the coffin from the roof and headed for the presidential residence at Dodan Barracks, driving through the back-streets of Lagos to avoid the roadblocks. Dumping the casket at the gates, he made his point, and was beaten for his efforts. His song Coffin for Head of State chronicles the events that day: Den steal all the money / Dem kill many students / Dem burn many houses / Dem burn my house too / And killed my mama / So I carry the coffin. It's not clear whether Fela's mother's body was inside the casket."