he had a traveling sunday tv show, sometimes broadcasting for hours, where'd he sing songs he wrote. who else sings?
obama might sing and dance on talk shows, but he'd never have the balls for this
What Christopher Hitchens Learned About Hugo Chávez's Mental Health When He Visited Venezuela With Sean Penn
Less than a day after Venezuelan President Hugo Chávez's communication minister appeared on television to announce that the socialist leader was in failing health, Chávez has died. In 2010 ...
http://www.slate.com/articles/news_and_politics/fighting_words/2010/08/hugo_boss.html
"In one of the rather free-associating speeches for which he has become celebrated, Chávez appealed to Jesus Christ to restage the raising of Lazarus and reanimate Bolívar's constituent parts. He went on: "I had some doubts, but after seeing his remains, my heart said, 'Yes, it is me.' Father, is that you, or who are you? The answer: 'It is me, but I awaken every hundred years when the people awaken.' " As if "channeling" this none-too-subtle identification of Chávez with the national hero, Venezuelan television was compelled to run images of Bolívar, followed by footage of the remains, and then pictures of the boss. The national anthem provided the soundtrack. Not since North Korean media declared Kim Jong-il to be the reincarnation of Kim Il Sung has there been such a blatant attempt to create a necrocracy, or perhaps mausolocracy, in which a living claimant assumes the fleshly mantle of the departed. Simón Bolívar's cadaver is like any other cadaver, but his legacy is a great deal more worth stealing than that of Kim Il Sung. Gabriel García Márquez's novel The General in His Labyrinth is one place to begin, if you want to understand the combination of heroic and tragic qualities that keep his memory alive to this day. (In New York, his equestrian statue still dominates the intersection of the Avenue of the Americas and Central Park South.) The idea of a United States of South America will always be a tenuous dream, but in his bloody struggle for its realization, Bolívar cut a considerable figure, as he did in his other capacities as double-dealer, war criminal, and serial fornicator, also lovingly portrayed by Márquez. Since he became president, the country's official name has been the Bolivarian Republic of Venezuela. (Chávez must sometimes wish that he had been born in Bolivia in the first place.) At Cabinet meetings, he has been known to leave an empty chair, in case the shade of Bolívar might choose to attend the otherwise rather Chávez-dominated proceedings."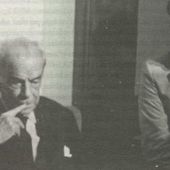 http://www.commondreams.org/headlines05/0507-06.htm AP - "We do have reasons to be worried, Mr. Danger, about the U.S. arms buildup, about U.S. threats, about the presence of U.S. soldiers in ...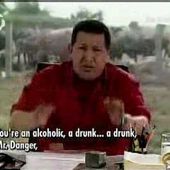 http://youtube.com/profile?user=elobservadorenlinea http://arstechnica.com/news.ars/post/20070601-the-counter-revolution-wont-be-televised-but-it-will-be-on-youtube.html Venezuela's ...