Metallica Tell US Military To Stop Using Their Songs As Torture Music In Iraq
musicfeeds.com.au
Metallica made a personal request to the US Army to stop using their music as part of the prisoner interrogation process in Iraq, it has been revealed.
http://musicfeeds.com.au/news/metallica-tell-us-military-to-stop-using-their-songs-as-torture-music-in-iraq/
"THESE PEOPLE HAVEN'T HEARD HEAVY METAL" |
http://en.wikipedia.org/wiki/Psychological_operations_(United_States) http://www.psywarrior.com/MusicUsePSYOP.html http://www.heavymetalinbaghdad.com/blog.php MUSIC AS TORTURE (IN 8 PARTS) ...
http://spectrevision.net/2007/02/13/these-people-havent-heard-heavy-metal/
You may have noticed a hiatus of sorts in the Document of the Month Club, and for an explanation, I will point you to the new address at the top of this memo. In January, after two years of ...
noriega playlist
The 361st PSYOP Company in IRAQ
SGM Herbert A. Friedman (Ret.) The 361st Patch is the same as the US Army's Civil Affairs and Psychological Operations Command (CAPOC) Patch. The translation for the 12th POB Crest is "Change the ...
THE USE OF MUSIC IN PSYCHOLOGICAL OPERATIONS
The Hebrews blowing trumpets at the battle of Jericho. The use of music in warfare goes back to Biblical times. Joshua won the battle of Jericho using trumpets. George Washington apparently thought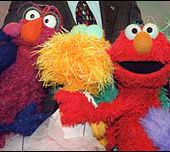 BBC NEWS | Middle East | Sesame Street breaks Iraqi POWs
'Culturally offensive' music is being used to break prisoners Heavy metal music and popular American children's songs are being used by US interrogators to break the will of their captives in Iraq ...
SPECTREVISION / OFFICE OF POPULAR HOLIDAYS HEREBY FORMALLY RECOGNIZES : BEST THEME PARTY PROPOSAL 2009 1st EARTH BATTALION http://www.firstearthbattalion.org/ http://www.neweartharmy.com/ ...