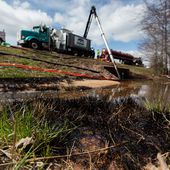 Keystoned? Exxon under fire as 10k barrels of oil spills on streets, floods Arkansas town — RT USA
rt.com
ExxonMobil is continuing cleanup operations after an oil pipeline spilled thousands of barrels of Canadian crude in Arkansas.
EXCLUSIVE: State Dept. Hid Contractor's Ties to Keystone XL Pipeline Company
A top expert who helped write the government's latest Keystone report previously consulted on three different TransCanada projects-a fact the State Department tried to hide. Late on a Friday ...
http://m.motherjones.com/politics/2013/03/keystone-xl-contractor-ties-transcanada-state-department