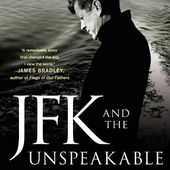 JFK and the Unspeakable: Why He Died and Why It Matters
www.amazon.com
THE ACCLAIMED BOOK, NOW IN PAPERBACK, with a reading group guide and a new afterword by the author. At the height of the Cold War, JFK risked committing the greatest crime in human history: starting a nuclear war. Horrified by the specter of nuclear annihilation, Kennedy gradually turned away fro...
http://www.amazon.com/JFK-Unspeakable-Why-Died-Matters/dp/1439193886
spoiler alert: "Oswald's career spans from Marine to person-having-a-remarkable-complex-of-relationships-with-the-CIA-and-the-FBI. The details of this relationship are documented in mundane bits of data stretching over many years."