"In letters sent Tuesday to the Central Intelligence Agency, Defense Intelligence Agency, and the State Department, the trio demanded all documents on Chávez: "This request in made in light of the U.S. government's acknowledged history of knowledge and possession of information regarding, and/or participation in, attempts to assassinate foreign leaders."
Hugo Chavez Assassination Theories Spread As U.S. Civil Rights Groups Request CIA & DIA Records
blogs.miaminewtimes.com
Hugo Chavez once said: "If they kill me, the name of the person responsible is George Bush."
http://blogs.miaminewtimes.com/riptide/2013/03/hugo_chavez_assassination_theo.php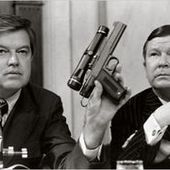 Assassinations by induced heart attack and cancer -- Sott.net
In 1975, during the Church Committee hearings, the existence of a secret assassination weapon came to light. The CIA had developed a poison that caused the victim to have an immediate heart attack ...
http://www.sott.net/article/232912-Assassinations-by-induced-heart-attack-and-cancer