God's Racket: Why It's High Time to Shut Down the Vatican Bank
www.alternet.org
Think of it as HSBC with God's imprimatur.
http://www.alternet.org/world/gods-racket-why-its-high-time-shut-down-vatican-bank?akid=10113.1117417.y2OBi6#.US4gOecwHbw.facebook
Daily Kos: The Vatican Bank and Money Laundering
Feudalism arose in the 8th and 9th centuries in Western Europe. Wealth was obtained from the toil of the peasants working the land. When Charlemagne was crowned Holy Roman Emperor by the pope in ...
http://www.dailykos.com/story/2013/02/18/1187776/-The-Vatican-Bank-and-Money-Laundering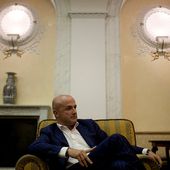 As Vatican Manages Crisis, Book Details Infighting
Across town, in the lobby of a fancy hotel on the Via Veneto, Gianluigi Nuzzi, the investigative reporter whose new book based on some of the leaks has sent the Vatican into a tailspin, was holding
http://www.nytimes.com/2012/06/04/world/europe/as-vatican-manages-crisis-book-details-infighting.html?pagewanted=all