"you know, women have a little different learning ability, I don't know how else to say it, women listen"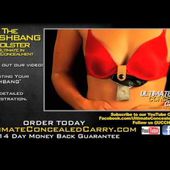 FLASHBANG (BRA) HOLSTER: An Overview
www.ultimateconcealedcarry.com The Flashbang holster attaches to the middle of the bra and tucks under the underwire. Fits most 380s, 38s and other small pistols. Nothing comes between a girl and ...