This video shows two quadrocopters capable of not only balancing an inverted pendulum, but also of launching it off the vehicle and catching it again. By Dario Brescianini, Markus Hehn, and Raffaello D'Andrea. IDSC, ETH Zürich, Switzerland For further information, please visit http://www.flyingmachinearena.org and http://robohub.org/video-throwing-and-catching-an-inverted-pendulum-with-quadrocopters/.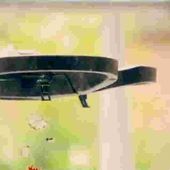 What's That Thing Hanging Outside My Bathroom Window? My Neighbor's Drone : NPR
Here's something new, exciting and just a little bit troubling: it's a little robot that you can fly with your phone. It's easy. It's versatile. It's got cameras so you can see and record what's ...
http://www.npr.org/blogs/krulwich/2013/02/25/172874102/what-s-that-thing-hanging-outside-my-bathroom-window-my-neighbor-s-drone