don't forget all those catacombs under rome, he's not trapped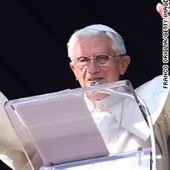 Could Pope Benedict be put on trial?
www.cnn.com
Pope Benedict XVI's resignation brings calls for his prosecution. CNN's Nic Robertson investigates the claims.
http://cnn.com/video/data/2.0/video/world/2013/02/18/robertson-papal-proseuction.cnn.html
dude is not trapped. better put a tracking device on his ankle, or he'll end up in paraguay
"The story goes like this: George W. Bush and/or George H.W. Bush bought hundreds of thousands of acres in Paraguay, adjoining a similar spread owned by the Unification Church's Rev. Sun Myung Moon. Both massive parcels are hidden within a remote South American wilderness atop the world's biggest freshwater aquifer adjoining a secret U.S. military airbase. Oh, and there's a special non-extradition law to protect the Bush/Moon families as they enjoy their old age and run drug/weapons smuggling rings, safe from American justice. And they'll own all the drinking water in the world, or something."

http://www.gnosticliberationfront.com/bushes_and_the_moons.htm
para-militarized gated community, slaves & hookers, the whole bit
alive and well. no gambling please (these two are so in love)
Rome's Ancient Catacombs -- National Geographic
Photograph by Roger Viollet/Getty Images By Maria Cristina Valsecchi A cross inlaid in the floor of a library marks the spot where Indiana Jones has to dig to access the ancient catacombs of Venice
http://science.nationalgeographic.com/science/archaeology/rome-catacombs/
"All Christian catacombs in Rome are property of the Catholic Church, and no one is allowed to explore them without special permission from the Vatican."