"According to American Indian Movement legal advisors and members, the Skull and Bones masons have violated laws preventing the desecration of graves and should be held responsible as felons. Apache tribal leader Ned Anderson was informed of the alleged theft in 1986 and is an ancestor of Geronimo, Anderson petitioned the FBI Federal Bureau of Investigations to force the return of the skull - he said "If it is true that Skull and Bones and its corporate parent RTA Inc., continue to hold these skulls, my belief would be that they are participating in a continuing conspiracy to be in possession of stolen property".

The Native American Graves Protection and Repatriation Act could easily be used to have a public/FBI search of the premises of the cult. This law provides legal grounds for prosecuting the Skull and Bones cult. Ironically, it was George H. W. Bush, DC '48, a member of Skull and Bones, who signed this bill into law in 1990."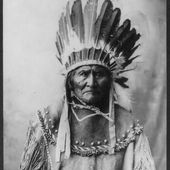 GRAVEROBBER PRESCOTT BUSH (DECEASED) http://www.courant.com/media/acrobat/2009-02/45128139.pdf http://www.yaledailynews.com/articles/view/27792 ...
"But in the course of his highly diverting account of the Pancho Villa skull claim, Mr. Singer lets drop an astonishing detail about the parallel Geronimo skull-recovery attempt: a remarkable report of a face-to-face, indeed face-to-skull, meeting between the Apache tribal representative, Ned Anderson, and representatives of Skull and Bones, including George Bush's brother Jonathan! According to Mr. Singer, Endicott Peabody Davison, a lawyer described as a designated spokesman for the Russell Trust Association, the Skull and Bones corporate shell, described the "Century Celebration" grave-robbing document as authentic-but the raid itself "apocryphal." Nonetheless, "in 1986 [Davison] and other representatives of Skull and Bones-among them George Bush's brother Jonathan- met with Anderson. They brought a skull and offered it to Anderson, but he declined because it seemed not to be the same one he had seen in photographs surreptitiously provided by an anonymous dissident member of Bones. The nose and eye cavities didn't match. Also Anderson took offense at a document that Davison wanted him to sign, which stipulated that neither the Apaches nor Skull and Bones would publicly discuss the whole business." I was fascinated by this account: Soon to be President Bush's brother offering the Apaches a skull their father was said to have stolen! Demanding the Apaches be sworn to silence presumably to protect the Bush family as well as Bones. But looking further into the episode I found an even more extraordinary detail about that face-to-skull meeting: the Skull of the Unknown Child. It appeared in an earlier account of the Geronimo controversy that first ran in 1988 in the Arizona Republic. In it, Republic reporter Paul Brinkley-Rogers reveals another fact about the document the Bush/Bones delegation asked the Apaches to sign: "Anderson called the document 'very insulting to Indians.' [He] also said he was confused and annoyed because the document said that Skull and Bones members had submitted the skull to 'an expert in New Haven' who determined that the remains were those of a child and therefore 'cannot possibly be those of Geronimo.'"
Skull and Bones, the Elite of the Empire | United States: The Hidden Power
The association Skull and Bones has inspired an important conspiratorial literature that holds responsible its members with the Watergate scandal, the Bay of Pigs invasion and even with the ...
"Samuel Russell, cousin of William Russell, was a major figure in the opium war. American national, he founded in 1813, the Russell & Company, which would compete in 1820 with the British control of drug smuggling into China. One of the eminent members of the association was Warren Delano Jr., grandfather of Franklin Delano Roosevelt."
Skull and Bones Skull and Bones is an undergraduate senior or secret society at Yale University, New Haven, Connecticut. It is a traditional peer society to Scroll and Key and Wolf's Head, as the ...
"In public, its corporate name is the Russell Trust Association. In 1999 it had assets of $4,133,246."