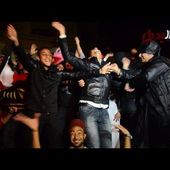 'Harlem Shake' Protests in Tunisia and Egypt
thelede.blogs.nytimes.com
The rapid evolution of the "Harlem Shake," from a dance to a song to a viral video craze to a new form of Middle East protest, continued apace on Thursday.
http://thelede.blogs.nytimes.com/2013/02/28/harlem-shake-protests-in-tunisia-and-egypt/
"The rally by about 400 activist dancers in Cairo on Thursday night, outside the offices of President Mohamed Morsi's Muslim Brotherhood, was streamed live to the Web by activists and caught on video by the news site Egyptian El Badil."
Salafists fail to stop 'Harlem Shake' in Tunisia
Salafist Muslims tried to prevent the filming of current Internet craze the "Harlem Shake" at a Tunis school on Wednesday, but were driven off after coming to blows with students, an AFP ...
http://www.dailystar.com.lb/News/Middle-East/2013/Feb-27/208140-salafists-fail-to-stop-harlem-shake-in-tunisia.ashx