"The findings instigated a broader federal investigation, which operated under the code name "Operation Flicker". The project began in 2007 and identified more than 5,200 individuals who had subscribed to child pornography websites. Out of the thousands of individuals who had been identified as subscribing to child porn, many provided Army or fleet zip codes or military email addresses. (2)
Despite dramatic claims of a decade-long federal investigation and the highly hyped top-secret project known as "Operation Flicker", the investigation into the Pentagon child porn scandal only actually ran for eight months and only cross-checked 3,500 names for Pentagon ties.
Defense Criminal Investigation Service (DCI) documents revealed that in a Freedom of Information Act request, out of the 3,500 names that had been crosschecked, 264 individuals were uncovered as being specifically Pentagon employees or contractors, including staffers for the Secretary of Defense. Only 20 percent of these 264 people were completely investigated and fewer still were prosecuted.
Where the Investigation Fell Short
Despite the operation possibly tying as many as 5,000 individuals to child pornography sites and at least 264 of those people being linked directly to the DoD, 1,700 alleged child porn customers still went unchecked, and at least nine cases were closed because the investigators lacked "current, relevant evidence"."
Why Was Pentagon Child Pornography Investigation Halted? | TheSleuthJournal
Child pornography being linked to the American government has all the hallmarks of being one of the major scandals of the decade. When the Pentagon child pornography story surfaced in 2010, it was ...
http://www.thesleuthjournal.com/why-was-pentagon-child-pornography-investigation-halted/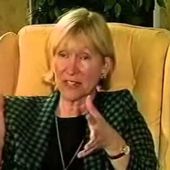 Kay Griggs Talks: Desperate Wives (Blackmail In US Government 1 of 2)
Kay Griggs, wife of colonel George Griggs, USMC (retired USMC Commandant): 29th Commandant of the Marine Corps, found her husband's diary, which contains details of homosexual blackmail in the top ...